See on Scoop.it – Theory of Everything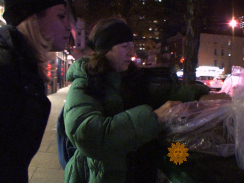 Even in a down economy, Americans find food cheap and plentiful enough to waste $165B worth each year…
See on www.cbsnews.com
"Rescuing Wasted Food to Fight Hunger" covers civic responsibility and what used to be called dumpster diving.
Over the past months I have been talking and blogging about the new empowerment zone (NEZ), the NEZ of personal choice and thinking outside of the box.
I don't like talking about this because it is CRITICAL that we wake up and engage and we are not waking and engaging quickly enough. One reason is that we have been lulled into a stupor by the new media age wielded by some very sophisticated adversaries. Another reason is that there are so many issues that need attention it can be overwhelming.
In the area of food we can certainly boycott and protest Monsanto corp., and it is a power struggle in which many should be involved. However, personal empowerment causes us to boycott our own habits that don't lead to empowerment and to protest our own thought patterns that pressure us to conform to what is not healthy, not empowering, for us our neighbors, our community, our city and so on.
Just recently proposition 37 in California, a call to mandatory labeling of genetically modified foods failed. One may ask how could voters vote against their right to know what they are eating?
According to EarthTalk at HealthyNewsDigest.com,
"Proponents of the bill raised some $9 million and garnered some 46.9 percent of the vote, indicating that upwards of four million Californians fear the potential effects of GM foods and are in favor of greater transparency on the part of the food industry. But such efforts weren't enough to overcome aggressive marketing by so-called Big Food companies including Monsanto, Coca-Cola, ConAgra, Nestle and Kraft, who poured some $45 million into the "No on 37" campaign."
This is disconcerting and a battle lost but people could have decided prior to hearing the fate of proposition to be more educated and more conscientious when buying food. All kinds of issues leap to the for front. For instance, of all the food that is labeled of all the organic food to be had, who can buy it? Can poor people buy organic; if not what can be done about it? If this isn't something for Liberation Theologians and civil rights activists to take on, if indeed this isn't a premier civil rights movement in the making I don't know what is.
Big business colluding with government is vying to totally control what food we buy and where we buy it from and it is becoming illegal to grow your own food. One step in this (beside denying you the right to know what you are eating) is the bid to make it illegal to have heirloom seeds. That is seeds that one can harvest from what one has eaten and seeds that are not genetically modified.
Individuals can not pursue every cause and most of us need to focus where we are lead to lead. Also though we need to connect with those kindred movements open up lines of communication, share resources as much as possible, and always share audiences. That is to say strongly encourage our followers to see what else there is to follow and bring in kindred spirits to impact them with the goal of putting folks in leader mode.
Systemically speaking, where is the preschool, elementary school and middle school that is teaching the 3 r's through dissidence, through the science of meteorology by doing a K-12 global warming dynamics case study, the science of gardening through practical application and textbooks in the classroom?
People in the healthy eating movement need to connect with the community gardening people who need to connect with the local market folks and all need to connect to the arts community and the community of influencers and cheerleaders.
Influencers can reveal issues and precepts, they say for instances that this food movement is a civil rights and human rights issue and connect the resources of the spiritual community and the public sector lawmakers, and the business community to one area, how we obtain our food, from where do we obtain food, and our relationship to food.